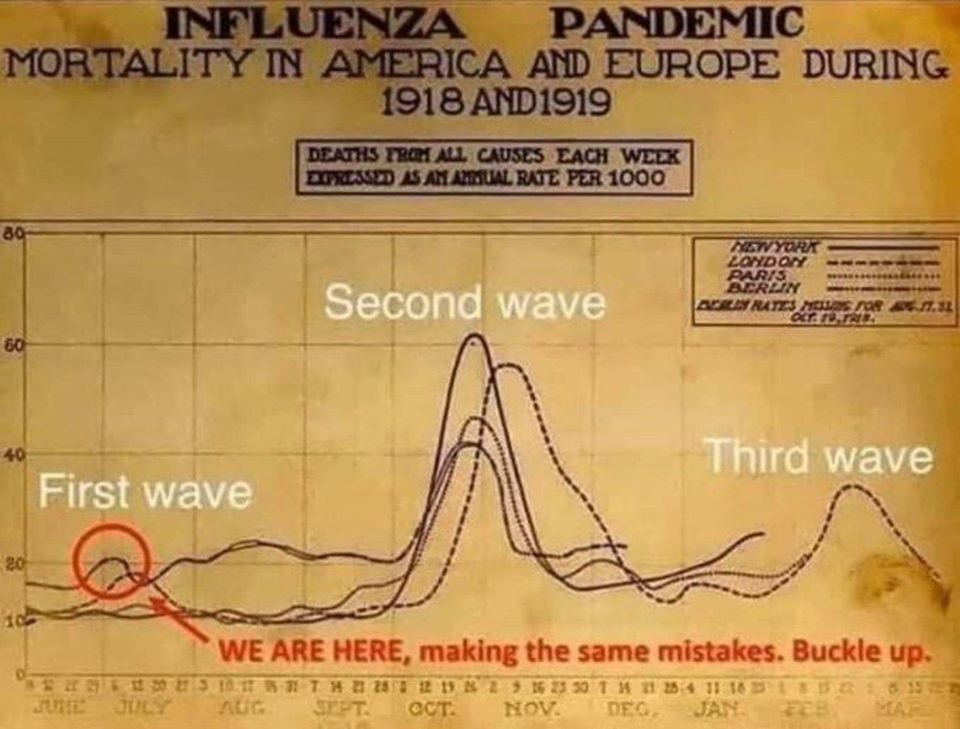 The 1918 Flu did not begin as an obvious pandemic and public health catastrophe. When the first cases appeared, experts and officials realized it was worse than the common flu, but it still seemed relatively mild and manageable. Beyond some closings in specific places, few took it seriously.
Besides, some were loudly vocal in their opposition to what they perceived as overreaction in trying to control the viral outbreak. And most leaders wanted to keep the economy going and the keep the factories open, if only for the war effort. A few more deaths of workers was deemed acceptable as sacrifices for the national good, the health of the economy, and whatever other reasons were given.
This allowed infections to spread around the world during the early period. And in spreading, it allowed this influenza virus to further mutate and quickly take hold across the global population. This set the stage for what was to follow when the next flu season came around later that year.
Then the second wave of infections hit with a new strain that was far more deadly. It is that second wave that we now remember as the greatest pandemic of the 20th century. Many millions of Americans died and, at that point, it was too late to have attempted to get it under control. The spread of the infection had to burn its way through the population.
Does the first part of that sound familiar? We now await the second wave of COVID-19 infections. No one knows what will happen. Going by testing data, it appears that only a small portion of the the United States population has been infected so far. One difference to the 1918 Flu is that governments this time around did put control measures into place, but that has only temporarily halted the spread while the virus goes partly dormant with warmer weather.
We will find out what happens this next fall and going into winter. The pandemic might fizzle out with only a few hundred thousands of Americans dead from COVID-19. Or as the leadership pushes to reopen the economy and larger society with few systematic and coordinated protective measures put into place, we might see a repeat of history with millions of American lives sacrificed. It's a gamble.
* * *
There is nothing wrong with making an informed calculation about public health, but it's not clear this is what has motivated the present reopening. Few politicians have been transparent about their decision-making and the data it's based upon. And fewer still, not even in the media's supposed role of holding officials accountable, are talking about the long term scenario we are facing, a possibility even of a pandemic that lingers for years.
Instead, those in power and influence are acting as if the pandemic is coming to an end, not merely passing through a momentary reprieve. The public is not being prepared, psychologically or practically, for another period of infectious spread. Yet it's certain that plenty of people in the leadership know about the high probability of an even worse return of the pandemic later this year, but obviously they don't want the public to know about it or worry about it.
If preparations are being made for what might come, it is being done covertly. That is understandable, in that they might want to avoid further politicization of the situation. And no doubt any officials who spoke of the pandemic not only continuing but getting worse would find themselves a target of the Trump administration and many other powerful interests, a not comfortable or safe position to be in.
The problem is this is yet more paternalistic authoritarianism in shutting down democratic process and public debate. Decisions are being made for us and we are being kept ignorant. We are being treated as children not to be trusted with full knowledge and adult responsibilities, children to be taken care of and told what to do. So, like good worker-citizens, we should return to our proper place within the capitalist hierarchy and, as Bush Jr told us after the 9/11 attack, our patriotic duty is to get back to shopping.
The appearance of normalcy is what has been deemed most important. The status quo is dependent on it, as is the power and profit of those who have most benefited from this entrenched system of neoliberalism. But viruses don't concern themselves with political priorities, economic demands, and ideological rationalizations. We will never return to normal and this will become ever more apparent as we enter this era of crisis after crisis, no matter what does or does not happen as we move toward the end of the year.
None of this is being discussed, not how this pandemic is probably related to climate change and environmental destruction, not how this pandemic was exacerbated by generations of a public health crisis, not to mention a public trust crisis. Simply put, we've been in a crisis for a long time and, pandemic or not, the state of crisis will remain unresolved. Besides, even if this pandemic dwindles away in a less than dramatic fashion, it's almost guaranteed that we will be facing other pandemics in the near future as the conditions are ripe for the spread of disease, similar to the spread of invasive species we're also experiencing worldwide.
This is not a time to let down our guard. Then again, those well-informed have known this for decades. So, why do we keep finding ourselves surprised and unprepared when each new crisis appears on the horizon?
* * *
Much of this has to do with our public imagination, what we are collectively capable of thinking about and envisioning. This COVID-19 situation does not fit our perception of how a pandemic is supposed to look. When we have a pandemic in mind, most of us look back to something like the Black Death where so many people died that there weren't enough people left to keep up with burying the dead.
It doesn't occur to us that even some of the worst pandemics could begin so unimpressively, as was the case with the 1918 Flu. And since we have no living memory of a pandemic in the Western world, we have no basis to consider even what this pandemic might mean even as we're in the middle of it. All the average person knows is that governments are reopening their economies and, intentionally or not, that sends a signal that all is well again.
Since there aren't dead bodies piled in the streets, maybe most people assume that either the pandemic is over or there never really was a pandemic in the first place. The thought that the worst might be yet to come is simply not in public awareness, as it's not a part of public debate, much less public messaging from officials and experts. And plenty of those seeking to shape the public imagination are happy to keep the public ignorant, so as to suppress fear and anxiety and panic.
Yet public imagination has permanently been impacted by these events. Most Americans still are reluctant about the economy reopening, not supporting the idea of being forced back to work when there is still a chance that they can be infected and die or that they might endanger the lives of loved ones. As increasing number of politicians take measures that indicate everything is winding down and returning to normal, a sense of caution and concern remains in the air. More people than ever are wearing masks, for example.
Despite lacking accurate historical knowledge of other pandemics, maybe on an unconscious level the public does sense that we are far from being in the clear, that the world still is not yet safe. Suppressed though it is, the public imagination is also being informed by the lack of public trust specifically in those trying to manipulate and manage public perception. Whether or not they could consciously articulate it, much of the population likely has a sense of waiting for the other shoe to drop.
* * *
This brings us back to the precautionary principle. We are entering an era of crises. There is no doubt that governments are preparing for disasters, but the kind of preparation governments tend to make have to do with hurricanes, wars, and such. It seems apparent that the United States government had almost no serious preparation for a pandemic.
A slow-burning pandemic like this simply doesn't fit into the political imaginary. The weakness of the precautionary principle is that it's dependent on our ability to imagine possibilities. We need experts who are educated and trained to imagine what others find impossible to imagine, so as to prepare for what otherwise would be unpredictable.
In general, hyperobjects that pose slow violence don't inspire collective action. They are too hard for most people to comprehend. Examples of this are invisible things like lead toxicity and climate change. We can't see them happening, can't see what they are doing to us and the world around us. So, we have no emotional and visceral response to their threat.
Related to COVID-19, another example is that of the chronic diseases that are comorbidities of infectious diseases. These are also referred to as the diseases of civilization, as they appear with the rise of civilization and worsen with the development of civilization, from agriculture to industrialization. How health declines across generations was scientifically studied in the early 1900s by Weston A. Price and Francis M. Pottenger Jr, although observations were made in the century or two prior.
The earlier 1918 flu became a pandemic because of changing conditions. This included the mass urbanization and industrialization that was changing lifestyles and diets, such as creating crowded conditions and malnutrition. Just hitting adulthood was the first generation that was majority urbanites. In the early 1900s, European immigrants were already noticing that American children looked chubbier, an early sign of metabolic disease, although obesity wouldn't be considered a public health crisis until the 1950s.
The 1918 flu may never have become a pandemic if not for the worsening health in the Western world. The same might be true now for COVID-19. Such conditions of public health could be the decisive factors for which infectious diseases become pandemics.
As a precaution, the best preparation possible for any and all crises is to improve public health. Even preparing for war requires a public healthy enough to serve as soldiers, a problem Western countries faced a century or so ago when much of the population couldn't serve in the military because of malnutrition and maldevelopment. Obesity has become a problem in the military now.
A pandemic doesn't come out of nowhere. The conditions for it develop over long periods of time, sometimes over generations. Such conditions might determine if infectious diseases remain a minor concern or run rampant across a population. Other conditions that unleash infectious diseases have to do with environmental destruction that stresses the health of both humans and wild animals.
The precautionary principle suggests we should expect the worst and expect the unexpected. It also suggest we shouldn't push our luck.
* * *
Relevant articles:
Three potential futures for Covid-19: recurring small outbreaks, a monster wave, or a persistent crisis
by Sharon Begley
Coronavirus may last 2 years, study warns- and its second wave could be worse
by Dennis Wagner
Why a Mayo Clinic expert has concerns about second wave of COVID-19
by DeeDee Stiepan
Harvard epidemiologist: Beware COVID-19's second wave this fall
by Len Strazewski
Why a Second Wave of Covid-19 Is Already a Worry
by John Lauerman
What If Covid-19 and Flu Both Flare Up This Fall?
by Robert Roy Britt
How will we know whether the coronavirus will come back stronger in the winter?
by Amina Khan
As States Rush to Reopen, Scientists Fear a Coronavirus Comeback
by Donald G. McNeil Jr.
A second wave of COVID-19 is probable, if history tells us anything
by Ashley Wadhwani
'The 1918 Spanish flu's second wave was even more devastating': WHO advises caution to avoid 'immediate second peak'
by Quentin Fottrell
What a Second Wave of Coronavirus in the Fall Could Look Like
by Heather Grey
Second more deadly wave of coronavirus expected 'to hit Europe this winter'
by Anne Gulland
Aftershock: If coronavirus swells in a second wave later this year, will the nation be ready?
by Dennis Wagner
Flu and coronavirus will launch dual 'assault' on America next winter if we don't prepare now, CDC chief warns
by Brandon Specktor
CDC director warns second wave of coronavirus is likely to be even more devastating
by Lena H. Sun
COVID-19 Update: US Second Wave May Happen in Fall and Winter; Here's How to Stop it, Says Fauci
by Jamie P.
Dr. Anthony Fauci on How America Can Avoid a Second Wave of the Coronavirus
by Soo Kim
For historical perspective, see the Twitter feed by John Zahorick:
100 YEAR OLD NEWS is like new news.
October 7, 1918
"Daily influenza reports ordered"
"All churches, fraternal orders, and clubs were requested to remain closed on Sunday."
"SALOON MEN PROTEST AGAINST CLOSING ORDER"
October 11, 1918
"Severe Embargo on Schools, Theaters, Churches and All Public Gatherings, Effective Tonight"
"A number of speakers to voice a protest against the closing order as being more drastic than the emergency demands"
December 17, 1918
"SPANISH INFLUENZA MORE DEADLY THAN WAR"
"More deaths have resulted in a little more than a month from this disease than through our whole 18 months participation in the battles of WW I"
July 30, 1919
"Congress Urged to Pass Flu Bill"
"The epidemic found the nation unprepared"
"470,000 deaths in America last year, 50,000 this Spring"
"Economic loss in ran into the billions"