In reference to the below COVID-19 graph of loss of life and jobs (per capita), someone wrote to us that the, "Lower left would appear better [i.e., more people alive and working. BDS]. Iowa was slightly lower left, but mostly in the center of all states. Hawaii had lowest excess death rate (negative), but highest job loss. West Virginia, Maine, and Indiana were well balanced." The graph is from Hamilton Place Strategies. It is included with their brief data analysis as presented in the recent (4/18/21) article, 50 States, 50 Pandemic Responses: An Analysis Of Jobs Lost And Lives Lost, co-authored by Matt McDonald, Stratton Kirton, Matisse Rogers, and Johnny Luo. The time period for the data is unstated, which could make a difference. That aside, most of the states clump near the center; although more states tended toward higher death toll; but, of course, it's the outliers in the four quadrants that grab one's attention.
We didn't initially give it much careful thought, even though such data does make one curious about what it represents, beyond some seemingly obvious observations. Here was our initial off-the-cuff response: "It maybe should be unsurprising that the most populated states struggled the most with finding a balance or, in some cases, keeping either low." That was tossed out as a casual comment and it was assumed no explanation was necessary. But apparently it was perceived as surprising (or speculative or something) to our collocutor who asked, "Why?" This seems to happen to us a lot, in that we are so used to looking at data that we assume background knowledge and understanding that others don't always share. It genuinely was not surprising to us, in that 'populated' clearly signifies particular kinds of factors and conditions. Once committed to the dialogue, we felt compelled to answer and explain. Continue further down, if you wish to see the unpacking of background info and social context that, once known, makes the graphed data appear well within the range of what might be expected.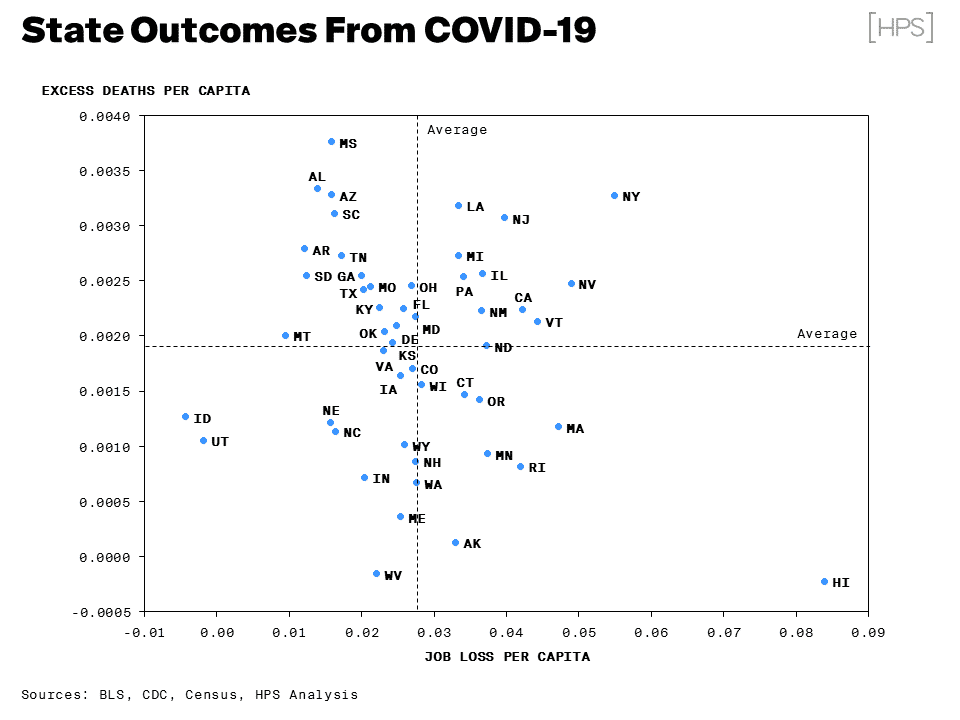 It seemed unsurprising to us, as we've looked at a lot of analysis of (demographic, economic, and social science) data like this over the years. So, we're familiar with the kinds of patterns that tend to show up and probable explanations for those patterns. But maybe it seems less intuitively obvious to others (or maybe we're biased in our views; you can be the judge). In the original article, the authors do note some relevant correlations indicating causal factors: "States with major hospitality and tourism sectors were hit hard in terms of job loss, with the impact falling unevenly across sectors. And states that were in the first wave of infections—when the healthcare system was still learning how to treat COVID-19—fared comparatively worse on their death tolls. New York, which falls into both categories, had the worst overall outcome, with both high excess deaths and high job losses."
The authors go on to say, "The states that emerged in the best position were Idaho, Utah, and West Virginia, all with some combination of low loss of life and low loss of employment." Others that did reasonably well were North Carolina, Nebraska, Maine, West Virginia, Indiana, and Wyoming. I don't recall any of these being hit early by COVID-19 outbreaks nor are they major tourist and travel destinations, other than NC to some extent. It could also be noted that all are largely rural states, if not as rural as they were last century, but still way more rurally populated (or rather less urbanized with fewer big cities and metropolitan areas) than states that had it rough in soaring death and jobless rates: New York, New Jersey, Louisiana, etc. It comes down to a divide between more and less urbanized, and hence more and less populated and dense. That has much to do with the historical economic base that determined how many people, over the generations, have moved to a state and determined their residential location.
As for the really obvious observations, there is the typical clear divide between North and South. Many liberty-minded Southern states, with historically high rates of total mortality and work-related mortality (along with historically overlapping classism and racism), were tolerant of sacrificing the lives of disproportionately non-white workers during a pandemic, particularly when it kept the economy going and maintained corporate profits for a mostly white capitalist class (see: Their Liberty and Your Death). ln general, all of the Deep South and Southwest states, along with most of the Upper South states, had above average death tolls (with MS, AL, AZ, and SC leading the pack); whether or not they kept job losses low, although they did mostly keep them down. All of the states that sacrificed jobs to save lives are in the North (AK, RI, MN, MA, etc) or otherwise not in the South (HI), be it caused by intentional policy prioritization or other uncontrollable factors (e.g., reduced tourism). Northern industrial states, as expected, took the biggest economic hit.
As for the initial point we made, larger populations that are more concentrated create the perfect storm of conditions for promoting the spread of contagious diseases. This represents numerous factors that, though any single factor might not be problematic, when all factors are taken together could overwhelm the system during a large-scale and/or long-term crisis. That typically describes states with large cities and metropolitan areas. Look at all of the highly populated and urbanized states and, no matter what region they're in, they are all near the top of excess deaths per capita. None of them managed to balance keeping people alive and employed, though some did relatively less worse. And it is apparent that the worst among them had the highest population density. That last factor might be the most central.
For comparison, here is the land area, population, and population density of the top 6 largest US cities, all in different states: New York City (301.5 sq mi; 8,336,817; 28,317/sq mi), Los Angeles (468.7 sq mi; 3,979,576; 8,484/sq mi), Chicago (227.3 sq mi; 2,693,976; 11,900/sq mi), Houston (637.5 sq mi; 2,320,268; 3,613/sq mi), Phoenix (517.6 sq mi; 1,680,992; 3,120/sq mi), and Philadelphia (134.2 sq mi; 1,584,064; 11,683/sq mi). New York City has about half the land as Houston and Phoenix, but has about four times the population of Houston and about seven times the population of Phoenix. So, even among the largest cities in the US and the world, there are immense differences in population density. States like Texas and Arizona have encouraged urban sprawl which, though horrible for environmental health, does ease the pressure of contagious disease spread.
This particular pattern of public health problems is seen all the way back to the first era of urbanization with the agricultural revolution when populations were concentrating, not sprawling. It wasn't merely the nutritional deficiencies and such from change in the agricultural diet. The close proximity of humans to each other and to non-human animals allowed diseases to mutate more quickly and spread more easily (a similar probable reason for COVID-19 having originated in China with wilderness encroachment, habitat destruction, and wild meat markets). Many new diseases appeared with the rise of agricultural civilizations. Even diseases like malaria are suspected to have originated in farming populations before having spread out into wild mosquitoes and hunter-gatherer tribal populations. Even in modern urbanization, humans continue to live closely to and even cohabitate with non-human animals. This is why populations in New England, where indoor cats are common, have high rates of toxoplasmosis parasitism, despite a generally healthy population.
Plus, at least in the US, these heavily urbanized conditions tend to correlate with high rates of poverty, homelessness, and inequality (partly because most of the poor left rural areas to look for work in cities where they became concentrated) — these high rates all strongly correlated to lower health outcomes, particularly the last, inequality. Of the only four states with above average economic inequality in the US, three of them (NY, LA, CA) had all around bad COVID-19 outcomes, with only high inequality Connecticut escaping this pattern by remaining moderate on job losses and excess deaths. As expected, the states that did the best in keeping both low were mostly low inequality. Other than two in the mid-range (WV, NC), all of the other cases of COVID-19 success are among the lowest inequality states in the country — according to ranking: 1) UT, 4) WY, 7) NE, 12) ID, 13) ME, and 15) IN. All of the top 10 low inequality states were low in COVID-related mortality and/or unemployment. That result, by the way, is completely predictable as it matches decades of data on economic inequality and health outcomes. It would be shocking if this present data defied the longstanding connection.
By the way, rural farm and natural resource states tend to be low inequality, whether or not they are low poverty, but research shows that even poverty is far less problematic with less inequality — as economic inequality, besides being a cause or an indicator of divisiveness and stress, correlates to disparities in general: power, representation, legacies, privileges, opportunities, resources, education, healthy food, healthcare, etc (probably entrenched not only in economic, political, and social systems but also epigenetics; maybe even genetics since toxins and other substances, such as oxidized seed oils in cheap processed foods, can act as mutagens which can permanently alter inherited genes; and so inequality gets built into biology, individually and collectively, immediately and transgenerationally). Certain economic sectors tend toward such greater or lesser inequities, and this generally corresponds to residential patterns. But the correlation is hardly causally deterministic, considering the immense variance of inequality among advanced Western countries with more similar cultural and political traditions (party-based representative democracies, individualistic civil rights, and relatively open market economies).
The economic pattern is far different between rural states and urban states, specifically mass urbanization as it's taken shape over the generations, and it has much to do with historical changes (e.g., factories closed in inner cities and relocated to suburbs and overseas). In big cities, many large populations of the poor (disproportionately non-white) have become economically segregated and concentrated together in ghettoes, old housing, and abandoned industrial areas (because of generations of racist redlining, covenants, loan practices, and employment). These are the least healthy people living in the least healthy conditions (limited healthcare, lack of parks and green spaces, lead toxicity, air pollution, high stress, food deserts, malnutrition, processed foods, etc), all strongly tied to COVID-19 comorbidities. In these population dense and impoverished areas, there is also a lack of healthcare infrastructure and staffing that is especially needed during a public health crisis, and what healthcare exists is deficient and underfunded.
To complicate things, such densely populated areas of mass urbanization make public health difficult because there are so many other factors as well. Particularly in American cities with immigrant and ethnic residents historically and increasingly attracted to big cities, additional factors include diverse sub-populations, neighborhoods, housing conditions, living arrangements, places of employment, social activities, etc. And all of these factors are overlapping, interacting, and compounding in ways not entirely predictable. This might be exacerbated by cultural diversity, since each culture would have varying ways of relating to issues of health, healthcare, and authority figures; such as related to mask mandates, vaccination programs, etc. It would be challenging to successfully plan and effectively implement a single statewide or citywide public health policy and message; as compared to a mostly homogeneous small population in a small rural state (or even a mostly homogeneous small population in a small urban country).
Also, disease outbreaks in big cites and metropolitan areas are much harder to contain using isolation and quarantines, as many people live so close together in apartment buildings and high-rises, particularly the poor where larger numbers of people might be packed into single apartments and/or multiple generations in a single household, and that is combined with more use of mass public transit. This came up as an issue in some countries such as in Southern Europe. Italians tend to live together in multigenerational households and tend to take in family members when unemployed. Combined with poverty, inequality, and policies of economic austerity, the Italian government's struggle to contain the COVID-19 pandemic made it stand out among Western countries, such that it early on showed potential risks to failing to quickly contain the pandemic. But, in many ways, it might have been as much or more of a sociocultural challenge than a political failure.
On the completely opposite extreme, the Swedish have the highest rate in the world of people living alone, but also some of the lowest poverty and inequality in the world. So, even though Sweden is heavily urbanized (88.2%), contagious disease control is easier; particularly with an already healthy population, universal healthcare, and a well-funded public health system (no economic austerity to be found in Swedish social services). Indeed, they only had to implement moderate public measures and, with a high trust culture, most of the citizenry willingly and effectively complied without it becoming a politicized and polarized debate involving a partisan battle for power and control. By the way, Sweden has a national population only slightly above NYC but less than the NYC metro. Of Nordic cities, Stockholm is the largest in area and the most population dense: total density (13,000/sq mi), urban density (11,000/sq mi), and metro density (950/sq mi). New York City has about two and a half times that urban density.
Then again, all of that isolated urbanization takes it's toll in other ways, such as a higher suicide rate (is suicide contagious?). It is one of the most common causes of death in Sweden and the highest rate in the West; in the context of Europe being one of the most suicidal continents in the world, although it's Eastern Europe that is really bad. Among 182 countries, Sweden is 32nd highest in the world with 13.8 suicides per 100,000; compared to Italy at 142nd place with 5.5 suicides per 100,000. That is two and half times as high. But, on a positive note, COVID-19 seems to have had no negative impact in worsening the Swedish suicide epidemic (Christian Rück et al, Will the COVID-19 pandemic lead to a tsunami of suicides? A Swedish nationwide analysis of historical and 2020 data), as presumably being socially isolated or at least residentially isolated is already normalized. If anything, suicidal inclinations might become less compelling or at least suicide attempts no more likely with the apparently successful response of the Swedish government to COVID-19, especially combined with the Swedish culture of trust. Not that global pandemic panic and local pandemic shutdown would be a net gain for Swedish mental health (Lance M. McCracken et al, Psychological impact of COVID-19 in the Swedish population: Depression, anxiety, and insomnia and their associations to risk and vulnerability factors).
So, theoretically, public health during pandemics doesn't necessarily have to be worse in large dense urban areas, as other factors might supersed. But, unfortunately, it apparently was worse in the US under present (social, economic, and political) conditions, however those conditions came about (a whole other discussion barely touched upon here). Many of the states that fared badly are massively larger than Sweden. As seen with New York City, the US has cities and metros that are larger than many countries in the world. These unique conditions of not merely mass urbanization but vast urbanization have never before existed in global history. The US population now in the COVID-19 outbreak is more than three times larger than during the 1918 Flu. The five boroughs of NYC have almost doubled in population over the past century with Queens almost five times as populated, and surely the NYC metro area has increased far more.
Places like Houston, Los Angeles, Chicago, and New York City are hubs in immense systems of commerce, transport, and travel with heavily used airports and sea ports, interstate highways and railways, a constant flow of people and products from all over the country and the world (the rise of mass world travel and troop transport was a key factor in the 1918 Flu, helping it to mutate and spread in the deadly second and third waves). Systems thinking and complexity theory have come up in our studies and readings over the years, including in discussions with our father whose expertise directly involves systems used in businesses and markets, particularly factory production, warehousing, and supply chains. Those are relatively simple systems that can to varying degrees be analyzed, predicted, planned, and controlled. But massive and dense populations in highly connected urban areas are unimaginably complex systems with numerous confounding factors and uncontrolled variables, unintended consequences and emergent properties. Add a pandemic to all of that and we are largely in unknown territory, as the last pandemic in the US was over a century ago when the world was far different.
Also, there is there is the issue of how systems differ according to locations and concentrations of various demographics, specifically in contrasting the privileged and underprivileged. That goes back to the issue of poverty, inequality much else. A major reason we've had so many problems is because most politicians, lobbyists, media figures, public intellectuals, and social influencers involved in the 'mainstream' debate that gets heard and televized are living in separate comfortable, safe, and healthy communities, as separate from both the rural and urban masses, particularly separate from minorities, the poor, and the working class (see: Mental Pandemic and Ideological Lockdown). We could note that the individual who originally showed us the graphed data, as mentioned at the beginning of the post, is of this typical demographic of wealthier urban white who has never personally experienced impoverished population density (AKA slums or ghettoes). And even though urban, like us, he lives in this same rural state with clean air surrounded by open greenspace of parks, woods, and farms; not to mention being smack dab in the middle of the complete opposite of a food desert. This could be why our reference to 'populated' states could gain no purchase in his mind and imagination.
Obviously, as complex systems, the densely populated big cities and metros described above aren't isolated and insular units, contained and controlled experiments. Their populations and economies are inseparable from the rest of the global society, even more true in this age of neoliberal globalization. That would complicate pandemic response in dealing alone with either excess deaths per capita or job loss per capita, but that would exacerbate further the even greater complexity of finding a balance between the two. When these major centers of industrial production, service industry, commerce, trade, transportation, marketing, and finance get shut down (for any reason) and/or when other closely linked major centers get shut down, it severely cripples the entire economy and employment of the state, even ignoring the potential and unpredictable pandemic threat of overwhelmed hospitals, death toll, and long-term health consequences. Economic and public health effects could ripple out and in with secondary and tertiary effects.
It's not anything like less populated rural farm states and natural resource states where, no matter what is going on in the rest of the country and world, the local population is more isolated and the local economy usually keeps trucking along. The Iowa economy and housing, for example, was barely affected by the 2008 Recession. Indeed, for all its failed state leadership in dealing with COVID-19, low inequality and low poverty Iowa was below average on both job losses and excess deaths. So, if Iowa could do better than most states, in spite of horrible leadership by the Trump-aligned Governor Kim Reynolds (even our Republican parents despise her handling of the crisis), maybe governments in other states also don't necessarily deserve as much of the blame or credit they are given, at least not in terms of the immediate pandemic response, although long-term public health planning and preparation (over years and decades) would still be important.
That is to say, the situation is complicated. Yet we seem to know what are some of the key complications, however entangled they may be as potentially causal or contributing. It's a large web of factors, but strong correlations can be discerned, all of it mostly following already known patterns, but of course we are biased in what we notice according to our focus. The data gathered and analyzed this past year, as far as we can tell, is not fundamentally different in nature than any other data gathered and analyzed over the past century. So, even though COVID-19 is a highly unusual event, what is seen in the data isn't likely to be surprising, even if requiring multiple layers and angles of interpretation. Still, unexpected results would be welcome in possibly indicating something new and interesting. Serious study of this pandemic has barely begun. The data will keep rolling in. Then decades of debate and theorizing will follow. Some of the observations offered here might to varying degrees stand the test of time, such as the well-established inequality links, but surely much of it might prove false, dubious, misleading, or partial. Many questions remain unanswered and, in some cases, unasked.