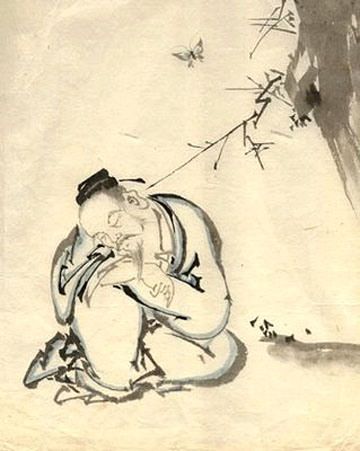 Karl Marx: "The reform of consciousness consists in making the world aware of its own consciousness, in awakening it out of its dream about itself"
Chuang-Tzu: Dreams he's a butterfly. Wakes up, finds he's a man, & asks: "But who is dreaming who? Is the butterfly now dreaming me?"
Now replace Chuang-Tzu's butterfly with capital.
We dreamt capital into being, it was a function of our imaginations, our social vision, our direction.
But at some point, the figure and ground flipped. Capital become the dreamer, and we, functions of its vision and (paltry) imagination.
This is one way I read Marx: we dreamt up capital (and thankfully so, it's a necessary component to the dialectic of progress).
But then we fell inside our own creation, engulfed, and now live perpetually inside capital, confusing the means for the end.
The 'reform of consciousness' is a collective remembrance, a collective 'waking up' from the nap we've taken inside what was only ever meant to be a transitional phase.
But for Marx, this isn't realized as some big ideological shift.
Rather, reforming the material environment is the precondition for reforming the collective consciousness.
This is why he takes shortening the working week as the prerequisite for "the true realm of freedom". Perpetual motion keeps the dream in place.
 ~ Oshan Jarow, Twitter thread