Charlie Spedding
We are told red meat causes bowel cancer. Today @thetimes reports on surge in colon cancer among the young. But young people are eating less meat. How does  @WHO explain that?



Louise Stephen
Fake news – there is big money behind the drive to get people off red meat and onto replacement products such as Beyond Meat.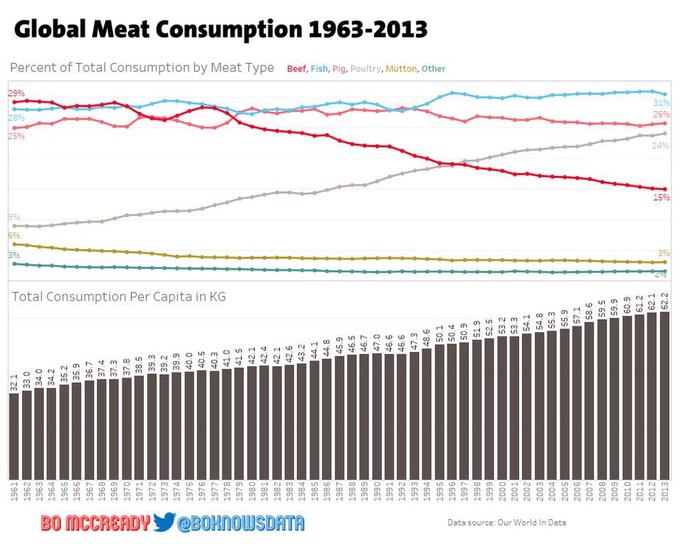 Frédéric Leroy
🤔 Mmm.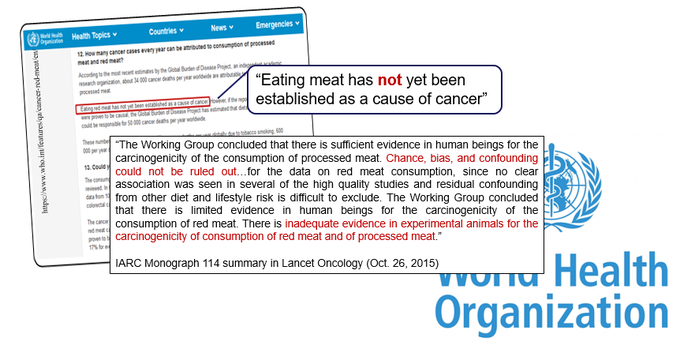 Tim Noakes
just possibly, cancer might have nutritional basis. Which seems at least an outside possibility since cancer is modern disease found rarely in peoples eating their traditional diets.
Guðmundur Jóhannsson
"Hyperinsulinemia appears to be a consistent marker of enhanced colon cancer risk."
The Role of Obesity and Related Metabolic Disturbances in Cancers of the Colon, Prostate, and Pancreas
by Edward Giovannucci & Dominique Michaud
Guðmundur Jóhannsson
Hyperinsulinemia & colon cancer. Prospective cohort study of 14.275 women:
"For colon cancer alone (75 case subjects and 146 control subjects), ORs increased up to 3.96 (95% CI = 1.49-10.50; P:(trend) <.001) for the highest versus the lowest quintiles."
Serum C-Peptide, Insulin-Like Growth Factor (IGF)-I, IGF-Binding Proteins, and Colorectal Cancer Risk in Women
by Rudolf Kaaks et al
Fat is our Friend
"Leading a Western lifestyle, being overweight, and being sedentary are associated with an increased risk of colorectal cancer"… but I thought it was mostly down to red meat.😉
Guðmundur Jóhannsson
Yes, because it rots in your colon… obviously
Does Meat Rot In Your Colon? No. What Does? Beans, Grains, and Vegetables!
by J. Stanton
Guðmundur Jóhannsson
"A high-fiber diet and increased frequency of bowel movements are associated with greater, rather than lower, prevalence of diverticulosis."
A High-Fiber Diet Does Not Protect Against Asymptomatic Diverticulosis
by Anne F. Peery et al
Tim Noakes
Is diverticulosis related in any way to bowel cancer? Recall that rise in colon cancer has occurred at same time that unproven Burkitt/Trowell hypothesis has been accepted as dogma. BT hypothesis holds that absence of dietary fibre causes colon cancer. So prevention = more fibre.
Guðmundur Jóhannsson
"There is no direct evidence of an effect of dietary fiber on colon cancer incidence… In a trial of ispaghula husk fiber, the intervention group actually had significantly more recurrent adenomas after 3 years"
Does a high-fiber diet prevent colon cancer in at-risk patients?
by Linda French, MD & Susan Kendall, PhD
Harold Quinn
If, as seems likely, colonic caracinoma is significantly pathogenically driven, then more "prebiotic" might be expected to be carcinogenic in the dysbiotic gut but potentially anti-cancer in a situation of eubiosis. Seeking some ubiquituous impact of fibre for all seems unwise
Dr. Ann
Interesting given bowel cancer may be highest in groups most likely to ingest plant fiber, at least if this study is to be believed
Vegetarians Have Fewer Cancers But Higher Risk Of Colorectal Cancer, Study
by Catharine Paddock PhD
Sydney
Did they study seed oils?
Joseph Emmanuel
''Elementary my dear Watson" … it's a paradox 'of course' 😉 at least in nutrition epidemiology