More fascinating data about the US.
This is further data which confirms my analysis in a recent blog post:
America's North/South Divide (& other regional data)
I'm, of course, not surprised. It makes sense why such patterns exist once you understand some of the underlying factors. We might not normally think about their influence, but history, demographics and culture have a major impact on a society and on communities within a societiy. These patterns don't change easily or quickly.
Anyway, the following is the actual data:
10 Most Violent States In The U.S.: The Institute For Economics And Peace
We've all heard that crime doesn't pay. Peace, it turns, out does.
The newest edition of the U.S. Peace Index, developed by the Institute for Economics and Peace, ranks states by level of peacefulness. The index is based on five primary indicators: (1) number of homicides per 100,000 people, (2) number of violent crimes per 100,000 people, (3) number of people in jail per 100,000 people, (4) number of police officers per 100,000 people and (5) general availability of small arms.
Combining these figures, the U.S. Peace Index calculates a number summarizing the overall peacefulness of each state, with low numbers being safer. Currently, the national average is 2.056.
Since 1995, the U.S. has become 8 percent safe, according to the index. Not all states have improved, though. New York's become 32.3 percent safer since 1991, but other states have actually become more dangerous, like North Dakota (47.7 percent more dangerous) and Tennessee (9.3 percent more dangerous). Generally, Southern states tended to be the least safe, with the region scoring 3.13 on the index, compared with the Northeast, calculated to be the safest region with a score of 1.99.
Reducing crime seems to have more benefits than just an increased sense of well-being, too, with the index's authors hinting that safety might have notable economic benefits. If the United States peace index was as low as Canada's (1.392 compared to 2.056), for example, the U.S. Peace Index's authors argue that state governments could save up to $89 billion in incarceration, medical, judicial and policing costs. Add to that an increase in nationwide productivity equivalent to a $272 billion stimulus, as well as 2.7 million newly-created jobs, and it starts to become pretty clear: peace pays.
Indicators are weighted, allowing homicides to carry the greatest significance, while availability of firearms carries the least. The index also groups into four categories an additional 37 secondary factors like high school graduation rate and median income: politics and demographics, education, health and economic conditions.
Launched April 6, 2011
The inaugural United States Peace Index, created by the international think tank, Institute for Economics and Peaceis the first-ever ranking of the fifty U.S. states based on their levels of peace. The U.S. Peace Index (USPI) shows Maine is the most peaceful U.S. state, while Louisiana is ranked the least peaceful.
The USPI report reveals that peace in the United States has improved since 1995 primarily driven by a substantial decrease in homicide and violent crime.
KEYFINDINGS
First-ever ranking of peace in the U.S. shows the nation has become more peaceful since 1995
Reductions in violence and crime to levels equal to Canada would yield an estimated $89 billion in direct savings, $272 billion in additional economic activity, and potentially create 2.7 million jobs.
New York, California and Texas record highest increases in peace since 1991, while North Dakota, South Dakota and Montana see largest declines
Peace is significantly correlated with factors related to  economic opportunity, education and health
Peace is politically neutral – neither Republican nor Democratic states have an advantage
Economic Impact – potential to create 2.7 million jobs
The Institute for Economics and Peace estimates that at a time when states and lawmakers in Washington are struggling to balance budgets, the USPI shows reductions in violence, crime and incarcerations to the same levels as Canada would result in $361 billion in savings and additional economic activity. This additional economic activity has the potential to create 2.7 million jobs, which would significantly reduce unemployment.
Education and health outcomes correlate strongly with peace
The USPI also finds that a state's ranking is strongly correlated with various socio-economic factors including the high school graduation rate, access to health insurance and the rate of infant mortality. Significant economic correlants included the degree of income inequality and the rate of participation in the labor force. Meanwhile, factors such as median income and a state's political affiliation had no discernable impact on a state's level of peace.
Additional Findings:
The ten most peaceful states as identified by the USPI are (from 1 to 10) Maine, New Hampshire, Vermont, Minnesota,North Dakota, Utah, Massachusetts, Rhode Island, Iowa andWashington.
Maine was ranked first overall because it topped the list of states on three of the five USPI indicators: number of violent crimes, number of police officers and the incarceration rate.
The ten least peaceful states are (from 50 to 40) Louisiana,Tennessee, Nevada, Florida, Alabama, Texas, Arkansas,Oklahoma, South Carolina and Maryland, respectively.
Regionally, southern states were identified as being the least peaceful, while states in the northeast were most peaceful. The peacefulness of states in the Midwest and West was about equal, with Midwest states being slightly more peaceful.
The total cost of violence per person in a state ranges from$656 in Maine to $2,458 in Louisiana. The USPI estimates that the economic effect of decreasing violence in states by 25 percent ranges from $126 million in Vermont to $16 billion in California.
New York experienced the most significant increase in peace as a result of decreases in violent crime and the homicide rate.
Conversely, South Dakota saw the largest decline due to a steady rise in incarcerations and the number of policewithout a fall in the incidence of homicide or violent crime.

(PDF – 3.6Mb)
MAPS
– Table of Results (PDF)
– Regional Findings (PDF)
– Significant Socio-economic Correlations (PDF)
– Individual State Rankings (PDF)
MEDIA RELEASE
– – –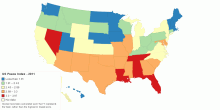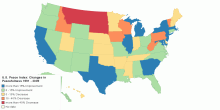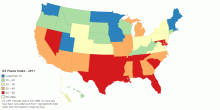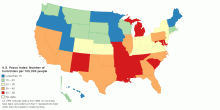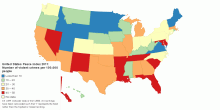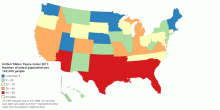 – – –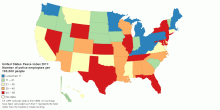 – – –