Taekwondo monkeys attack trainer
"Bizarre" Octopuses Carry Coconuts as Instant Shelters
Very interesting.
If We Policed the U.S. the Way We Do Afghanistan
A comic that is pretty much explained by the title.
Argonne Scientists Use Bacteria to Power Simple Machines
Science is going in something truly fascinating directions.  Just 10 yrs from now there will be technologies we can't even imagine now.
Here is a video demonstrating this bacterial-powered mechanism.
How shellfish saved the human race
This is a nice article as it considers a time long ago that humans faced extinction and now we face the possibility of another global climate change.
Hidden Sensory System Discovered in the Skin
I've heard of a similar sensory ability of the skin and I wonder if it's related.  I remember reading about basic light sensors in the skin and that some blind people have claimed to be able to detect light through their hands.
Web Faceoff: Digg vs. StumbleUpon vs. Reddit
I like these kinds of sites.  I've never really used Reddit, but I've heard it's really nice.  I have an e-mail subscritpion to Digg and have visited StumbleUpon on occasion.  Along with Boing Boing, I find a lot of interesting stuff through these sites.
Make the Most of Your Middle Mouse Button
I always like learning new shortcuts.  I have a scroll on my mouse that can be clicked, but I never really knew what it could be used for.
Never Listen to Céline? Radio Meter Begs to Differ
This is interesting for two reasons: (1) it shows what people actually listen to rather than what they say they listen to, and (2) it shows the problem with surveys because people (intentionally or not) are prone to lie or otherwise not be entirely accurate in their self-assessments (some make this same criticism against psychological testing such as with personality).
I find it kind of amusing that at the age when many people experiment with drugs some of the favorite drugs are legal medications.  I'm willing to bet there are many more people who use legal drugs illegally (i.e., other people's medications) than who use illegal drugs.  Could you imagine if, like marijuana, all of these kids illegally using medications were sent to prison?
It does point  out how the world has become very competitive.  College kids are of the largest generation in US history, there are more kids going to college, and when they graduate there are less job opportunities than past generations had (such as the Boomers).  Who can blame them for trying anything an edge. 
With rising rates of unemployment, home foreclosures, bankruptcy and homelessness, these college kids don't have a rosy future to look forward to.  On top of that, there has been decades of former generations (ahem, Boomers) borrowing against the future of these kids, endless wars that are bankrupting the working and middle classes while making the powerful rich (including the War on Terror and the War on Drugs which are essentially merging into the same endless war spawned by the Cold War mentality… oh yeah and the Military-Industrial Complex), a society being ripped apart by culture wars (which would seem to include the War on Drugs which is imprisoning a whole generation of minorities), and the environmental future looks bleak (to say the least).
Sexting hasn't reached most young teens, poll finds
Another sign of the changing times.  When I was in highschool, there wasn't any equivalent to this.  I'm sure kids have always taken naked pictures, but there was no technology like kids have right now. 
It makes me wonder where all of this technology will lead.  I'm not a doomsayer when it comes to technology.  I find it rather fascinating.  I'm actually more scared about what the government and corporations will do with technology.
Nearsightedness increasing in the United States
Here is another thing that is probably the result of technology, but there could possibly be other factors at play such as genetics or nutrition.
This article is about the issue of accessibility to the internet as compared to the issue of accessibility to electricity.  I've had this exact same thought.  The internet isn't quite at the point of being a utility, but it's very close.  It's hard to function today without the internet.  I was trying to resolve a phone problem with the phone company and they wouldn't accept complaints by phone (when I used a pay phone) because they had a special online form for all complaints (it was very very frustrating).  Within the decade, the internet is going to become a necessity.
Homeless people and the Internet
Some argue that the internet will one day be considered a right.  Interestingly, I remember reading a local article about the homeless and cellphones.  The article pointed out that any homeless person looking for work has to have a cellphone in order to receive calls (or else they very well might remain homeless forever).
Google Set To Market Own Phone Next Year
I've been waiting for years for cellphone prices to go down.  Maybe Google will finally be the thing that forces real competition in the market.
What does your phone company stand for?
This is an advertisement for Credo Mobile.  They claim to support liberal politics and point out that the other cellphone companies support conservative politics.  Why is it that almost all major evil corporations seem to support conservative politics?  I suppose the answer is obvious.  Big business can't run rampant if their is big government regulating it.
FTC Accuses Intel Of Stifling Competition
I just heard about this on NPR.  After all of these years, the monopoly of Intel is finally being questioned by the US government.
Developer of Big-Box Stores Supersized the Art of Retail
The very successful and wealth business man Sol Price recently died.  I don't know too much about him, but just reading a bit of his philosophy he seems to have been an actually moral guy who actually cared more about people than simply making money… and he sounds humble to boot.
Mr. Price wasn't shy about voicing his displeasure when things went wrong, which in his view included overcharging customers. "If you recognize you're really a fiduciary for the customer, you shouldn't make too much money," Mr. Price told Fortune.

For many years, his stores wouldn't take credit cards because Mr. Price said he didn't want his customers to go into debt.

[...]  Following the 1993 merger, Mr. Price concentrated on a real-estate investment trust and other investments, and donated more than $100 million to programs aimed at revitalizing the San Diego neighborhood where he grew up, according to his foundation.

"I've always said that people give money for one of three reasons: guilt, ego, or emotion," he told his biographer. Guilt and emotion were his motivations, he said.

"Most of life is luck," Mr. Price added.
Diane Rehm interviewed George Packer about his book Interesting Times
It was a good interview. 
As a journalist, he admitted to having failed the American public during Bush's administration, but he seemed to give a lot of rationalizations.  He still dismisses the criticisms of the anti-war protesters as being too simplistic.  It was obvious he never even looked at the anti-war movement in any detail.  How sad.
He made one major point that I almost entirely agreed with.  While lamenting about the loss of network news, he pointed out that cable news doesn't seem all that interested in actual reporting.  I can't remember all that he said, but I think he mentioned the problem of people not knowing what is a reliable source as there are so many opinions. 
My minor disagreement is that I don't think network news necessarily ever was that great… of course, it was better in the past than what we have now.  The media has always been a platform for opinions and propaganda, but in the past people didn't have alternative views to see past the spin.  The spin of the past was less easily detected and the viewing public was more naively gullible.  It might be difficult for the average person even now to figure out the truth, but at least the viewing public is aware that they should be suspicious of claims made by talking heads.  Intelligent viewers, if they so desire, can research to determine the truth which would've been very difficult to do decades ago.
Man kills mountain lion in Marengo
The lion was hunted to death in Iowa and is still and endangered species in some states.  And yet it's legal to shoot lions in Iowa.  This lion wasn't doing anything.  It hadn't attacked anyone.  It was actually afraid of the hunter and went up into a tree to hide.
That pisses me off like almost nothing else.  Even Glenn Beck doesn't make me feel this angry.  Let me just say that if I had a gun and had been next to that guy when he was about to shoot that lion, I would've been strongly tempted to shoot the guy.  Losers like this make me ashamed of being an Iowan.  There are a lot of people like this guy who would've shot this lion, but not all hunters are evil ignorant assholes.  In the comments section, a number of hunters criticize what this guy did.
SFPD won't investigate hit-and-run car-v-bike accident
This has been a problem around this area as well.  There have been a number of incidents I've heard about in recent years where Iowa police didn't take seriously accidents where bicyclists got hit.  And (with RAGBRAI) bicycling is fairly popular in Iowa.
Cut services could mean homelessness, jail for some
I was just reading yesterday about Iowa considering closing down a psychiatric hospital which, even with moving the services elsewhere, would make it less likely that those that need help will get it.  Now Iowa politicians are considering cutting off the financial support to those with mental and physical handicaps.  Meanswhile, the government gives massive bailouts to the rich and there is a troop surge.  Isn't rather odd that the funding to the military or to prisons are rarely cut.
Dark-skinned nativity scene angers conservatives in Verona
I just wanted to share this because it's good to be reminded that there are also idiotic Christian fundamentalists outside of the US.
AP INVESTIGATION: Monsanto seed biz role revealed
Some claim big government is evil and make allegations of socialism, communism, fascism, Nazism, etc.  Yeah, big government can be evil, but as long as evil big corporations exist we need the former evil to balance out the latter.  All in all, I'd rather take my chances with the potential evil of government because at least with a national government there is the possibility of democracy or else revolt… whereas a multi-national mega-corporation is practically untouchable.
Hundreds of billions in crime money knowingly laundered by banks during credit crunch
Here is where the real problem comes in.  I suspect that there is very little separation between big business and big government… and it's not always clear which one is controlling which.  Going by the financial interests and career histories of the powerful, there seems to be a revolving door between big government and big business.  Some extreme anarcho-libertarians would say we should get rid of both… if only such a thing were possible.
Newsrooms Don't Need More Conservatives
I always find it amusing the attempt to blame media bias on liberals.  If the mainstream media owned by megacorporations ever represent real liberal beliefs and progressive values, then conservatives would be fair to complain.  Yes, compared to the far right religious loony fringe, the mainstream media is liberal… but, come one, that isn't a fair comparison.  I mean, just look at them, the far right is even attacking mainstream Republicans as being too liberal.  It's a freaking commie witchhunt.
BTW this is article is worth reading.  From a similar viewpoint as my own, the author discusses the problems of those who wish to make the media more conservative.  The only thing that the article lacks is a direct criticism of the allegation of liberalism itself.
This is a good article, but it misses important factor.  Yes, US meddling has created blowback and so in a sense we share the responsibility/blame for the terrorism committed against us. 
However, the problem isn't just the act of meddling but the motivations behind it.  If the US meddled with the genuine intent of helping others rather than taking short-term advantage of them, then there would be a lot less blowback.  The US is an arrogant nation.  Politicians think they can take advantage of the poor and needy in the world without there being any repurcussions… or at least not any repurcussions on their watch (let the future generations worry about the mistakes of past politicians).  I think people should have to pass a morality test before they're allowed to be put into office (and every voting citizen should have tto pass a morality test for their vote to count).
Our view is that there is good and bad public borrowing. In the 1980s federal deficits financed a military buildup that ended the Cold War (leading to an annual peace dividend in the 1990s of 3% of GDP), as well as tax cuts that ended the stagflation of the 1970s and began 25 years of prosperity. Those were high return investments.
That is a bit of simple-minded wishful thinking.  What we know is that the 1980s created deficit, but it was long after Reagan that the deficit ended and it was with the Democratic Clinton.  I'm not making any grand judgments about deficit itself, but it is a fact that all recent Republican presidents created large deficits.  The deficits create false confidence and create bubbles.
Besides, the 1980s also created the terrorists that attacked us on 9/11 and the 1980s created the War on Drugs that has been bakrupting this country for a long time (with no tangible results other than vast social injustice).  Furthermore, carrying on in the GOP tradtion, Bush jr was not only the most fiscally irresponsible president in modern history but also the most morally corrupt (and remember Bush jr's administration was a direct carryover from past Republican administratiosn… which means Bush jr is representative of the Reagan era GOP and not a mere fluke).
I'm certainly not defending the Democrats in general or Obama specifically.  I'm just saying that Republicans should first take the log out of their own eye.
This decade began and ended in dread. It began with Wall Street — the World Trade Center — targeted for mass murder. It ends with Main Street fearful and reeling from economic reverses that Wall Street helped create.

It was the decade of distraction. While the U.S. economy bubbled and then crumbled, the president for eight of the decade's 10 years embroiled us in a grudge match with Saddam Hussein and then persisted in throwing lives and money into the chaotic conflict that (as many predicted would happen) ensued. The decline of the American middle class was nowhere on his radar screen.

[...]  The problem is that America's economic elites have thrived on the financialization and globalization of the economy that have caused the incomes of the vast majority of their fellow Americans to stagnate or decline. The insecurity that haunts their compatriots is alien to them. Fully 85 percent of Americans in that CFR-sponsored poll said that protecting U.S. jobs should be a top foreign policy priority, but when the pollsters asked that question of the council's own members, just 21 percent said that protecting American jobs should be a top concern.

The moral world that we see in that poll is the moral world of Charles Dickens. Of the elite of his day, he wrote in "Bleak House," "there is much good in it. . . ." But, he continued, "it is a world wrapped up in too much jeweller's cotton and fine wool, and cannot hear the rushing of the larger worlds, and cannot see them as they circle round the sun. It is a deadened world, and its growth is sometimes unhealthy for want of air."

America, at the end of this dreadful decade.
Watch America's public domain video treasures, rescue the public domain from paywalls
It's always nice to be reminded that there are a few people in politics who actually care about us common people.  I sometimes think the government would be happy if all records of all political events simply disappeared never to be found again.
One commenter made a good point.  The government left all of this valuble material on film until 2005 without transferring it for safekeeping.  It reminds me of the NASA moon landing footage that disappeared and which had never been transferred for safekeeping… or released for public viewing. 
I sometimes wish we actually did live in a communist country just so some politicians could be shot for public spectacle.
Victor Jara, tortured and murdered Chilean folk singer, laid to rest a second time
This about one of the many victims of Pinochet.  Also, it's important to remember that the CIA played a major part in bringing Pinochet to power (by toppling the democratic Chilean government).  Your tax money (or your parents tax money) helped to pay for the death of this fok singer and unknown numbers of other people.
Here is what Noam Chomsky said of it (from the Wikipedia article):
"So, let's imagine how [the September 11th attacks] could have been worse for example. Suppose that on September 11, Al-Qaeda had bombed the White House and killed the President, instituted a murderous, brutal regime which killed maybe 50,000 to 100,000 people and tortured about 700,000, set up a major international terrorist center in Washington, which was overthrowing governments all over the world, and installing brutal vicious neo-Nazi dictatorships, assassinating people. Suppose he called in a bunch of economists, let's call them the 'Kandahar Boys' to run the American economy, who within a couple of years had driven the economy into one of the worst collapses of its history. Suppose this had happened. That would have been worse than 9/11, right? But it did happen. And it happened on 9/11. That happened on September 11, 1973 in Chile. The only thing you have to change is this per capita equivalence, which is the right way to look at it. Well, did that change the world? Yeah, it did but not from our point of view, in fact, who even knows about it? Incidentally, just to finish, because we [the U.S.] were responsible for that one."
Here is the video of this long dead folk singer… just another one of the millions (at least) of worldwide casualities of US arrogance and morally unrestrained power-mongering.
Here is another video about an intriguing psychological topic.  I does make one wonder how much of the world goes unnoticed on a daily basis.
It may or may not give you hope, but it certainly will do something to you.  Who knows… maybe even Washington politics will start making sense to you.
Mark Dery on Naked Lunch's 50th Anniversary
We're coming to the end of the 50th anniversary of Naked Lunch.  Burroughs may be dead, but his weird imagination lives on.
Photos of rotting, abandoned water park at Walt Disney World
I wanted to end with this article because it's a story that would've made Philip K. Dick happy (see: How to Build a Universe That Doesn't Fall Apart Two Days Later).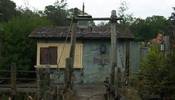 Filed under: Interesting Stuff on the Web Tagged: | Entertainment, internet, media, news, video, web